Sonic Codex (2007)
Jazzland
| | |
| --- | --- |
| Sign of Seven | 6:26 |
| Quicksilver Dream | 6:24 |
| Cameo | 5:18 |
| Still Changing | 8:12 |
| Black Noise/White Silence | 3:07 |
| Family Pictures III | 3:38 |
| Sleeps With Fishes | 6:28 |
| The Return of Black Noise & Murky Lambada | 11:34 |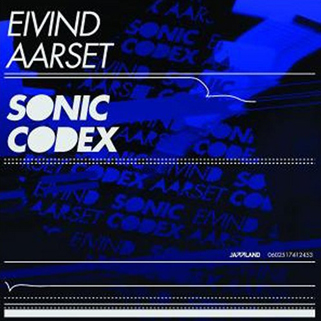 Sonic Codex
as described by Jazzland:
Throughout the varied textures and structures, Aarset's guitar provides constant interest, sometimes behaving as a narrator helping through densely layered textural structures, sometimes behaving like a carefully camouflaged animal, barely perceptible against a driving backbeat. As with the rest of his work, he demonstrates how the electronic and the acoustic can co-exist, each integrating and absorbing the other, not merely occupying the same space. He has created his own sonic world, and he continues not just to explore it, but also to chronicle it with an unerring ear for the right details, and a full understanding of how those details make up a much larger whole.
The album's title is a perfect summary of its hour-long contents: it is a Sonic Codex. It puts forward Aarset's rules of engagement with the listener, and very deliberately quotes and redefines the musicality that made up his previous three albums, 'Electronique Noire', 'Light Extracts', and 'Connected', yet also points his way forward; it is an innovative present that simultaneously summarises the past, and predicts the future.